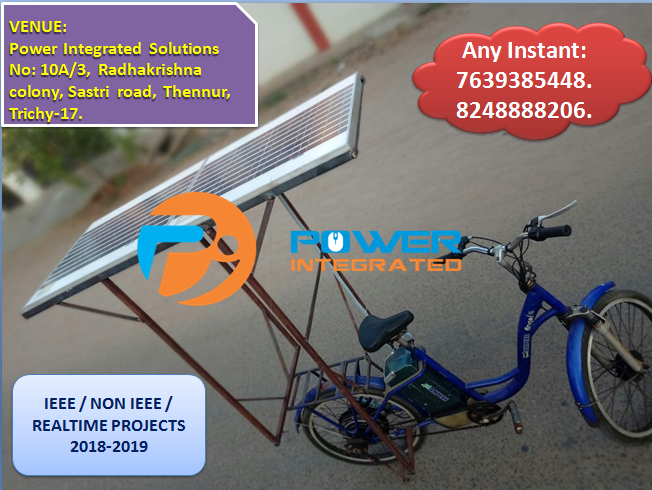 91-7639385448 | www.powerintegarted.in
MINI PROJECT / REAL TIME PROJECT / SMART PROJECTS
CALL @ 91-7639385448 / 9566377454.
VEHICLE TRACKING SYSTEM.
PROGRAMMABLE SWITCHING CONTROL FOR INDUSTRIAL AUTOMATION IN REPETITIVE NATURE OF WORK
SOLAR RADIATION MEASUREMENT.
IOT BASED ELECTRIC LOAD CONTRTOLLING AND MONITORING.
THREE PASE SEQUENCE ALARM CIRCUIT.
SOLAR MAXIMUM POWER POINT TRACKING.
CAR BATTERY CHARGING CIRCUIT.
VOICE CONTROLLED HOME AUTOMATION.
AC VOLTAGE CONTROLLER.
SMOKE DETECTOR.
VISITOR CONTROLLER MANAGEMENT.
LOW COST OUT DOOR LAMP CONTROLLER
AUTOMATIC WASHROOM LIGHT SWITCH.
ANTI- THEFT ALARM USING IN ROOM.
LPG GAS DETECTOR USING ARDUINO.
LIGHT INTENSITY SENSOR USING ARDUINO.
METHANE GAS LEVEL DETECTION FOR AGRICULTURE AWARENESS.
AUTOMATIC PLANT IRRIGATION SYSTEM
FLAME DETECTOR USING ARDUINO.
SOLAR POWER MONITORING SYSTEM.
TRAFFIC SIGNAL MONITORING & CONTROLLER SYSTEM.
SMART DUST BIN.
SMART SENSOR MONITORING.
ENERGY METER MONITORING.
ARDUINO BASED DOOR MONITORING SYSTEM USING REED SWITCH.
RAIN FALL DETECTION CIRCUIT.
SMART CAR PARKING.
IOT BASED INDUSTRY AUTOMATION.
SMART THEFT IDENTIFICATION SYSTEM.
AUTOMATED CALLING BELL SYSTEM.
BUCK & BOOST CONVERTER.
AUTOMATED STREET LIGHT.
HIGH VOLTAGE DC UP TO 2KV FROM AC BY USING DIODE AND CAPACITORS IN VOLTAGE MULTIPLIER CIRCUIT.
UNDERGROUND CABLE FAULT DISTANCE LOCATOR.
MAN FOLLOWED TROLLEY FOR AIRPORT AND SHOPPING MALLS.
HOME AUTOMATION USING IOT.
RFID ACCESS CONTROL SYSTEM.
LOW COST SMART IRRIGATION.
GAS AND SMOKE MONITOR WITH ALARM CIRCUIT.
SOIL MOISTURE MONITORING ON IRRIGATION APPLICATION.
SMART WATER TANK.
ELECTROMANETIC INDUCTION BASED ELECTRICITY.
BATTERY CHARGING CIRCUIT.
BLUETOOTH OPERATED ROBO.
AUTOMATIC ROOM LIGHT CONTROL WITH VISITOR COUNTING FOR POWER SAVING APPLICATIONS.
ALCOHOL & HEALTH MONITORING SYSTEM.
WIRELESS DC MOTOR SPEED AND DIRECTION CONTROL FOR ROBOTIC APPLICATION.
ULTRASONIC SENSOR USING ARDUINO.
OVER SPEED INDICATOR.
DIGITAL VOLTMETER USING ARDUINO.